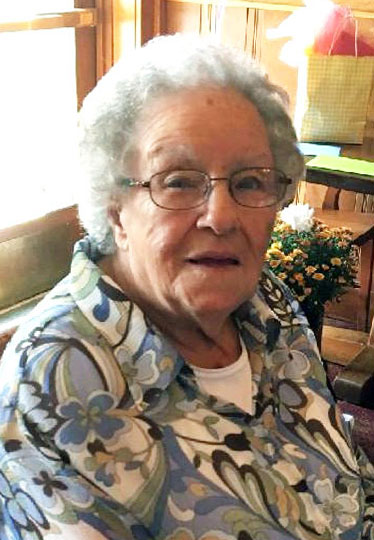 Betty Yaney, 96, of Ossian passed away on Thursday, June 1, 2023, at Christian Care Retirement Community in Bluffton.
Betty was born on Aug. 26, 1926, to Raleigh and Louva (McLain) Dishong. With the exception of the past two years, Betty lived in Ossian her entire life. At one point, she claimed she knew everyone in town. She was a 1944 graduate of Ossian High School. She married her high school sweetheart, Bill Yaney, on Feb. 17, 1945, shortly before he was sent to the Pacific Theater during WWII. Bill preceded her in death on Feb. 1, 2016.
Betty was a member of the Ossian Church of the Nazarene. She had a passion for children, missions and anyone who was hurting and needed a friend to talk to. She taught kindergarten and first grade Sunday school classes for over 40 years. She was a member of the Church Crochet Club, which made hats for children that were sent all over the world.
She is survived by her four children, Marsha (Vern) Ludden of Fishers, Joy Deckard of Ossian, Kevin (Lynn) Yaney of Noblesville, and Michael (Mariko) Yaney of Aichi-Ken, Japan; 10 grandchildren, Tonni (Chad) North of Fort Wayne, Regan (Amanda) Deckard of Louisville, Ky., Chris (Ginger) Ludden of Indianapolis, Matthew Ludden of Indianapolis, Timothy (Emily) Ludden of Indianapolis, Allison (Brian) Loughery of Fishers, Jonathan Yaney of Cincinnati, Jordan Yaney of Evansville, and Sara and Sho Yaney of Aichi-Ken, Japan; three great-grandchildren, Spencer North of Boston, Nolan North of Ossian, and Bella Kolcun of Louisville, Ky.; and one brother, Paul (Nancy) Dishong of Elkhart. Betty was preceded in death by her husband, Bill Yaney; parents, Raleigh and Louva Dishong; and brother, George Dishong.
A funeral service will be held at 11 a.m. on Friday, June 9, 2023, at the Ossian Church of the Nazarene, 302 N. Metts St. in Ossian, with visitation one hour prior. Visitation also 4-8 p.m. on Thursday, June 8, 2023 at the church. Burial to follow the service at Oaklawn Cemetery. Contributions in Betty's memory may be made to Ossian Church of the Nazarene Youth Group.