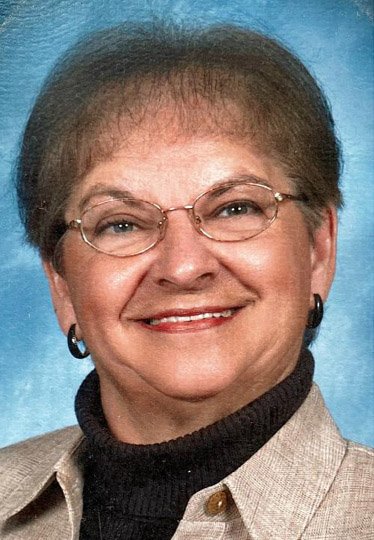 Lana L. Dubach, 81, of rural Geneva, Ind., was called home to be with the Lord early Thursday morning, May 18, 2023, at Adams Woodcrest in Decatur.
The daughter of the late Norval Banter and the late Ruth V. Hakes)Banter, she was born July 29, 1941, at Adams County Hospital. Lana was united in marriage to Larry "Chub" Dubach Nov. 25, 1962, at the Linn Grove United Church of Christ. Theirs was a true love story spanning more than 60 years.
Throughout her life, Lana was deeply involved in her church community, beginning at Old Salem United Methodist Church and later at the Cross Community Church in Berne. Her devotion to the young children was evident through her years as a Sunday School Teacher and also taking on the responsibility of leading Vacation Bible School. Her love and gift of music was shared with the church choir. Lana's generosity and kindness to others was shown through her service on the funeral meal committee and also serving as an elder within the church.
Lana was a 1959 Hartford graduate and a proud Hartford Gorilla cheerleader. Following graduation she began working at the Bell Telephone Co. as an operator. At the time her daughter Patti was born, she changed roles to become a full-time mother and farm wife.
Family was at the heart and essence of everything Lana did. She was a very devoted grandmother and faithfully supported her grandchildren in their numerous events. Lana was a skilled seamstress, crafting many beautiful dresses and garments for her children and grandchildren. From a young age, she enjoyed singing harmony with family and in church. She shared her love and talent for singing with her girls. Together they sang for many residents of local nursing homes and special events. A true Hoosier, Lana was an avid I.U. basketball fan. In her quiet moments, Lana could be found with a book in hand and listening to old gospel music.
Lana is survived by her husband of 60 years, Larry "Chub" Dubach of Geneva; two daughters, Patti (Jay) Sprunger of Berne and Terri (Jeff) Harruff of Berne, ; a sister, Suzanne Smith of Berne; a brother, Rick (Monica) Bailer of New Port Richey, Fla.; five grandchildren, Brittani (Gregory) Groninger, Chase (Ashley) Sprunger, Gabe (Becca) Sprunger, Eliza Harruff, and Blaine Harruff; and eight great-grandchildren, Raegan Caffee, Nora Sprunger, Minnie Groninger, Enslee Sprunger, Rowe Sprunger, Kit Groninger, Cricket Groninger, and Rigs Sprunger.
She was preceded in death by a brother, Donald Bailer.
A funeral service for Lana will be held at 10:30 a.m. Wednesday, May 24, at the Cross Community Church in Berne with Pastor Warren Willie and Rev. Anita Rediger officiating. Burial will follow at the Old Salem Cemetery in rural Wells County.
The family will receive friends from 3 to 8 p.m. Tuesday, May 23, 2023, at the Zwick & Jahn Funeral Home, Yager-Kirchhofer Chapel in Berne and also one hour prior to the service at the church.
Preferred memorials in Lana's honor can be given to the donor's choice.
Arrangements by the Zwick and Jahn Funeral Homes, Yager-Kirchhofer Chapel of Berne.