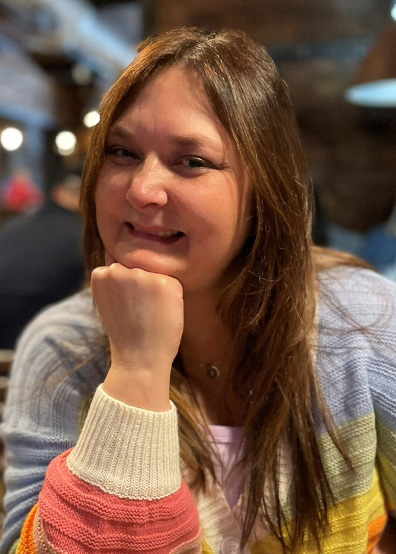 Laura L. Ray, 44, of Markle, passed away Friday evening, Sept. 29, 2023, at her residence, surrounded by her family.
She was born Dec. 20, 1978, in Marion, Ind. to James W. Lewis and Melanie Irwin. Laura was a 1997 graduate of Southern Wells High School and worked as a CNA for Heritage Pointe in Warren for many years. She graduated from Ivy Tech. Community College in Fort Wayne in 2017 with her degree as a respiratory therapist and started working at Lutheran Hospital in Fort Wayne.
Laura was a talented artist and enjoyed painting and crafts. She was an amazing cook and was always looking for new recipes to try. Laura enjoyed music, traveling, gardening and enjoyed the flowers in her gardens!
On May 5, 2023, Laura and Courtney M. Bourne were married in Huntington.
Survivors include her spouse, Courtney of Markle; and her former husband/best friend and devoted caregiver, Aaron M. Ray of Huntington. She is also survived by her sister, Kathryn (Jonah) Siegel of Indianapolis; and her stepfather, James (Jennifer) Boots of Upland.
Laura is a huge animal lover and is survived by her two dogs, Stewie and Ivy; and four cats, Fern, Blanche, Charlie, and Artie.
She is preceded in death by her parents.
Funeral services will take place at 7 p.m. Thursday, Oct. 5, 2023, at the Thoma/Rich, Lemler Funeral Home in Bluffton. Visitation will be held from 4 p.m. to 7 p.m. Thursday, at the funeral home, prior to the service.
A private family burial will take place at Mossburg Cemetery in Liberty Center, Indiana.
Memorial may be made in Laura's memory to the Friends of the Wells County Animal Shelter and can be directed to the funeral home.
Funeral arrangements have been entrusted to the care of the Thoma/Rich, Lemler Funeral Home in Bluffton. Friends can send online condolences to the family at www.thomarich.com.