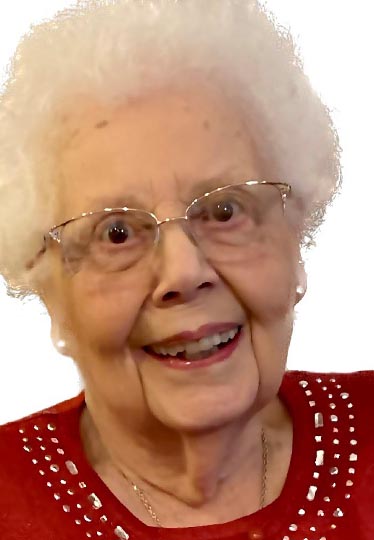 Doris Marie Woodward, 96, of Warsaw, Ind. passed away at her residence surrounded by her loved ones at 5:32 p.m. on Wednesday, May 24, 2023, at the wonderful age of 96.
She was born on June 5, 1926, in Bluffton to Ethel (Hunnicutt) and Roy Biberstine. At the young age of 21, Doris married Forrest M. Woodward Jr. on Dec. 21, 1947. They were blessed with four children, shared the joy of becoming grandparents and great-grandparents during their 49 years of marriage together. She was a loving and dedicated wife to her husband. They shared their lives completely throughout their married years. Their mutual love and respect epitomized true love in its purest form. They met each other's every need. She enjoyed her job being mom, but more than anything grandma and great-grandma. Forrest passed away on Aug. 6, 1997.
Doris earned her B.S. degree in Education from Ball State University in 1948. Early on in her marriage she taught for a few years and later enjoyed being a substitute teacher. She was always active in the PTA as her children were growing up.
Doris enjoyed volunteering her time at Marion Hospital, served on various committees, especially where she could help those in need, and used her talents as a seamstress to mend clothing for the underprivileged. Doris had a sharp mind and loved to watch the stock market, was an avid reader, doing book studies, and was part of a bridge club. She loved a good game of golf whenever she was able to get on the green, and always had a good time with her bowling league. Throughout her life Doris attended various churches depending on where the Lord had her family living. In 1998, she moved to the Warsaw area and enjoyed her role as a mother, grandmother and great-grandmother. Doris lived a full life in her 96 years on this Earth and will be dearly missed by those who loved her.
She leaves behind three daughters, Dianne Woodward Jackson of Rockford, Mich., Ellen (Mark) Wease of Leesburg, Ind. and Joyce (Robert) Metz of Springhill, Tenn.; and her son-in-law, Rob McDonnough of Tecumseh, Mich. Also surviving are seven grandchildren, Jason (Annde) McDonnough, David (Krista) McDonnough, Brian (Trisha) Metz, Emily Herbert, Kiley (Matthew) Stokes, Michael Jackson, and Kate (Anthony) Jackson; 13 great-grandchildren, Colin Giles, Mason, Gavin, Ethan and Ellen McDonnough; Main, Sutton, and Fallon Metz; Greyson Stokes; Taylor Herbert; and Effie, Nora and Jackson Lam.
She was preceded in death by her husband, daughter, Karen McDonnough, two grandchildren, Kimberly and Clifton Wease, two brothers, Joe and Ted Biberstine, one sister, Betty Kain, and her son-in-law, William "Bill" Jackson Jr.
Doris' life will be celebrated with a private family graveside service at Fairview Cemetery in Bluffton, Indiana. Arrangements were entrusted to Redpath-Fruth Funeral Home, 225 Argonne Rd. in Warsaw.
Memorial donations may be directed to American Diabetes Association, Chicago/Northern IL Office, 55 E. Monroe Street, Suite 3420, Chicago, IL 60603.
Online condolences may be sent through the funeral home's website at www.redpathfruthfuneralhome.com