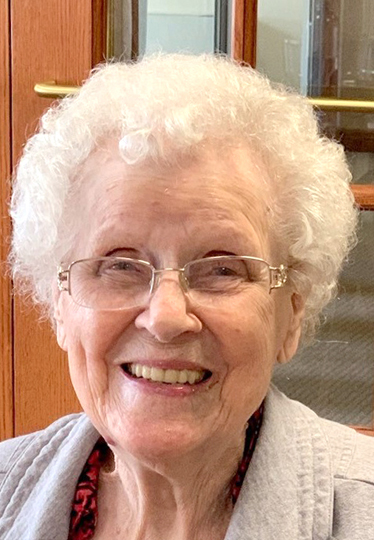 Esther E. Krick-Woodward, 101, of Huntington, a former resident of Ossian, peacefully took Jesus' hand and is now enjoying all of Heaven's glorious beauty, on Tuesday afternoon, Jan. 31, 2023, at the Heritage Pointe of Huntington, where she had lived the last seven years.
Esther started working at the age of 11 at Knight's Grocery to help support her family during the Great Depression. During World War II, she worked a "man's job" at GE while the gents were serving our country.
She was a 1939 graduate of Lafayette Central High School and later went back to college at the age of "49" to receive her LPN and worked as a med nurse at Lutheran Hospital and the Caylor Nickel Clinic for many years until her retirement. She then volunteered in the Gift Shop at Lutheran for several years.
Esther was a lifelong member of the Markle Church of Christ and a past member of the Order of the Eastern Star lodge 166 in Ossian. Her Christian faith shone through even to her last breath. Her nurses really loved her and commented on her spiritual beauty. Her family's lives are changed forever in so many ways and have an everlasting example of how to live a Christian life.
She was born on July 26, 1921, in Zanesville, a daughter of the late Milo C. and Zeffie E. Kitchen Reed.
She was united in marriage to Donald Krick on Nov. 20, 1939, in Decatur. Donald preceded her in death on April 24, 1997. She later married John L. Woodward on Oct. 11, 2003, in Markle. John preceded her in death on July 29, 2010.
Survivors include a daughter, Kay (Darol) VanMeter of Roanoke; a stepdaughter, Kate Schwartz of Huntington; four grandchildren, Greg (Amy) VanMeter, Lori (Mark) Sattison, Brent (Manju) Dafforn, and Kriss Kohart; and 10 great-grandchildren, four great-great-grandchildren, and two step-granddaughters.
She was preceded in death by a daughter, Joyce Dettmer; three brothers, Charles Reed, Theodore Reed, and Ralph Reed; and a sister, Blanche Geiger.
Visitation will take place from noon to 2 p.m. Friday, Feb. 3, at the Markle Church of Christ, 455 E. Morse St. in Markle. Funeral services will take place at 2 p.m. Friday, Feb. 3, following the visitation, at the Markle Church of Christ. Interment will take place in the Hoverstock Cemetery in Zanesville.
Preferred memorials are to the Markle Church of Christ Missions fund, sent in care of the Myers Funeral Home, P.O. Box 403, Markle, IN 46770
To sign Esther's online guest registry, log on to www.myersfuneralhomes.com