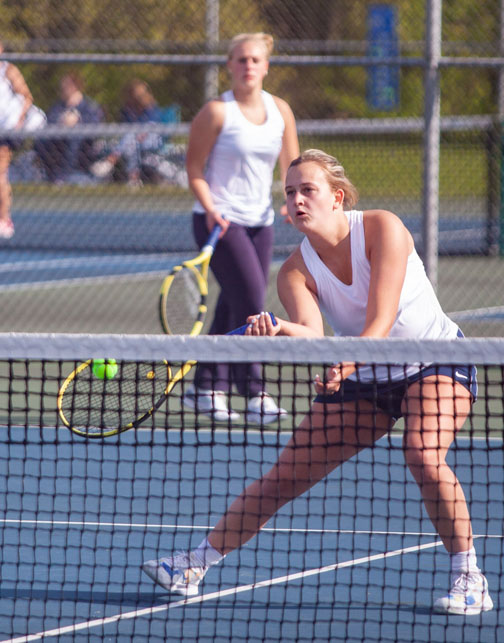 The Norwell girl's tennis team swept East Noble on the road in Northeast 8 Conference play Thursday.
Results for varsity:
• Addy Heyerly defeated Bree Walmsley 6-2, 6-4 in No. 1 singles.
• McKenna McNabb defeated Sadie Potts 6-2, 6-0 in No. 2 singles.
• Delaney Hoover defeated Ella Edwards 6-3, 6-3 in No. 3 singles.
• Annabelle Johnson and Macy Felger defeated Maria Bona and Brooke Lindseu 6-0, 6-0 in No. 1 doubles.
• Jordyn Xayyachack and Idoia Ochoa defeated Rylie Pasztor and Payton Quake 7-6(2), 7-6(1)
The junior varsity also earned a sweep, winning 10-0.
Results for JV
• Brooklyn Pine defeated Keegan Ball 8-6.
• Macie Saalfrank defeated Makenna Strohn 8-2.
• Ella Krug defeated Georgia Bradley 8-0.
• Ciera Hiester and Gracie Rinkenberger defeated Ava Lash and Cayden Hulbert 8-3.
• Emma Roembke and Gabbi Hoeppner defeated Levi Moore and Shaina She Coil 8-2.
• Aubrey Meyer and Emmaline Johnson defeated Maddie Green and Kendyll Swary 6-0.
• Marlee Wenger and Hope Mitchell defeated Kara Fry and Libby Rayle 6-0.
• Addison Roembke and Sam Evans defeated Lillian Knox and Milia Halmagyi 6-3.
• Campbell Sloan and Gabbi Hoeppner defeated Brooklin Acker and Amelie Windten 6-0.
• Ella Krug and Emma Roembke defeated Kristen Bender and Helana Weaver 6-0.
Norwell will be at the Tony Wright Memorial Tournament in Angola starting at 9 a.m. Saturday, May 6.