By JOSH BURRIS
The Norwell Lady Knights defeated the Bluffton Lady Tigers 5-0 in Friday's girls' tennis sectional semifinal round at Norwell High School.
With the win, Norwell (16-1) moves on to Saturday's championship match to face the Bellmont Lady Braves. Bellmont defeated Adams Central 3-2 in the other semifinal match on Friday. All four teams also had to play through some very strong winds that affected the path of the ball all throughout the day.
Norwell defeated Bluffton 5-0 in last week's regular season finale as well.
Coach Holly Kimball said her team put its best foot forward again on Friday.
"I thought they did wonderful," Kimball said. "I was a little worried that they were going to come out flat-footed because we just beat Bluffton last week, but they are determined to win sectional this year so they all brought the best fight they could."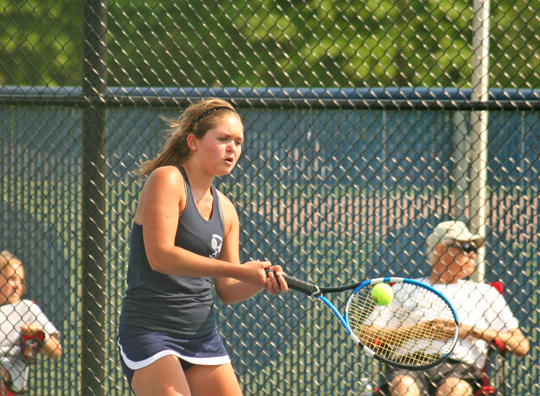 McKenna McNabb defeated Emma Baumgartner in No. 2 singles for Norwell's first point. Addy Heyerly defeated Gretchen Crist in No. 3 singles, and Jordyn Xayyachack and Sofia Fernandez defeated Cadence Engle and Olivia Funk in No. 2 doubles to secure a Norwell victory.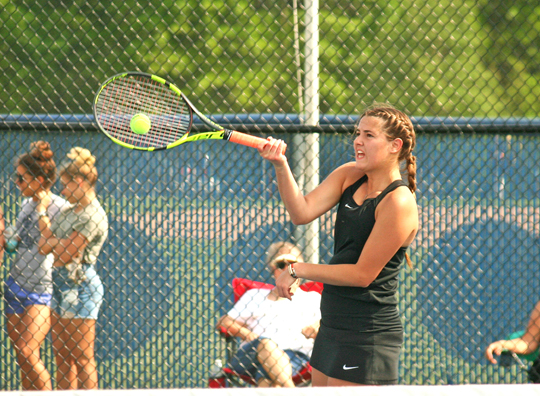 Annabelle Johnson and Mackinzie Toliver defeated Emily Mann and Madi Fenstermaker in No. 1 doubles to make it 4-0 Norwell.
Aubreyan Heyerly wrapped the day up by defeating Monroe Heller in No. 1 singles. Heyerly initially trailed 3-0, but fought back to win in three sets.
Bluffton ends its season with a 5-10 record.
It advanced to the semifinal round after defeating South Adams 5-0 in Thursday's match.
Coach Hunter Cunningham said she was happy her team fight from start to finish.
"Last night's (Thursday) win was exciting and exactly what we needed. We lost to them (South Adams) in the regular season 2-3 so to beat them 5-0 last night was encouraging," she said. "Tonight did not go as I hoped it would, but I am still proud of the girls. We had players who fought from start to finish and that is all I can ask for."
sports@news-banner.com