Click here to view the latest event schedule.
Click here to view more photos of the opening night parade.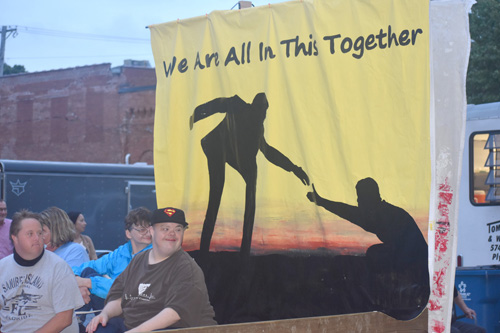 By DAVE SCHULTZ
The Midway may have been a little less crowded, the number of spectators lined up for the Opening Night Parade may have been fewer than in past years, and the number of vendors is down from 2019 and earlier.
Nevertheless, the 2021 edition of the Bluffton Free Street Fair formally got under way Tuesday evening.
Lifelong Bluffton resident Dick Bricker was the grand marshal for the 40-minute parade, and he was a very happy man when his ride through the city's downtown streets was completed.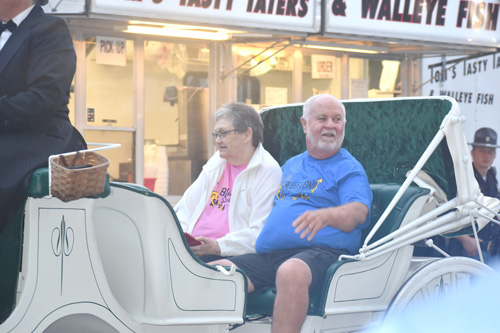 "Actually, it was surprising. It was enjoyable. I really enjoyed it," Bricker said. "It was a lot of fun. I saw a lot of good people that I know and a lot of people I didn't know were waving.
"I really enjoyed it."
Also enjoying the evening was George Moore, president of Street Fair's board of directors.
He acknowledged that canceling the 2020 fair hurt, but this year's fair is a solid step in the fair's comeback, he said.
"I think it's good, especially after we had to miss a year," he said.
The threat of rain may have been a factor. He noted that one of the parade judges was Gabe Prough, a meteorologist from Channel 21 in Fort Wayne, and he was asked whether the parade would be good to go. The deadline for a decision on the parade's fate was 5 p.m.
"There was supposed to be an hour and a half window," Moore said as the parade stepped off at 7 p.m. "We're hoping to fit everything in."
Indeed, no significant rain had fallen before 9:30 p.m., well after the parade was completed.
Rain may be a factor during the rest of the fair, however. The National Weather Service office for northern Indiana is predicting rain all day Wednesday, and has even posted a flood watch that will be in effect until 8 a.m. Thursday.
More rain is possible Thursday, but Friday is supposed to be sunny. Rain could return Saturday morning but end before the fair's closing events Saturday afternoon and evening.
The best float for the 2021 fair was the one entered by the Wells County Historical Society.
Moore said that the cancelation of the 2020 fair may have resulted in some vendors not coming. On the other hand, he said, some vendors said they would not be coming because their operations had been affected by COVID-19.
"We told them that if you're sick, of course, don't come," Moore said.
Wednesday's events include the classic car show and parade plus equestrian events at the 4-H Park and a community worship night on the main stage on West Washington Street.
daves@news-banner.com