By DAVE SCHULTZ
A smooth rendition of "Feeling Good" in the style of Michael Bublé earned Tyler Kuntz the top prize in Saturday night's Street Fair Idol competition.
Kuntz, 21, a 2018 graduate of Norwell High School, is currently working on becoming a professional singer by working with professionals in Nashville. The goal is to get a record contract, he said.
His performance went somewhat against the grain of the other performances, which featured several power ballads.
Kuntz said he started with piano lessons at 6 years old and began singing when he was in middle school.
"Once I got on stage, I was hooked," he said after Saturday night's competition, which was held on the fair's main stage on West Washington Street. "Then I would sing at church on the worship team and then I started leading the worship team. Eventually, I realized that's what I wanted to do — I wanted to lead worship for the rest of my life."
He attends Hope Missionary Church where his father, Chris, is the worship leader.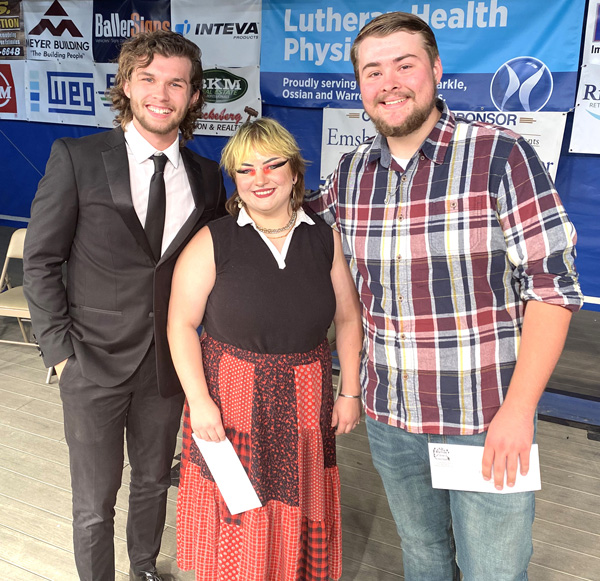 Placing second in the competition was Lareesa Ford of Fort Wayne, who sang "What's Going On" as recorded by the group 4 Non Blondes. It was Ford's third time in the SFI finals. Third place went to Zach Ochsner of Bluffton, who performed "Before You Go" as recorded by Lewis Capaldi.
First place in the annual competition is worth $700, with second paying $300 and third place paying $200.
Saturday night's show was the 12th annual event.
Others participating were:
• Lizzie Brooks of Bluffton, who performed "Before He Cheats" as recorded by Carrie Underwood.
• Liz Landes of Ossian, who performed "Steady My Heart" as performed by Kari Jobe.
• Ked Moser of Craigville, who performed Lee Greenwood's patriotic standard "God Bless the U.S.A.," which brought the audience to its feet.
• Holly Jefferson of Bluffton, who performed "You Could Be the One" as recorded by Miley Cyrus.
• Sylvia Reiff of Bluffton, who performed "Valerie" by Amy Winehouse.
• Janessa Smedley of Decatur, who performed "Dancing With the Devil" by Demi Lovato. Smedley is a former street Fair Idol winner.
A 10th performer, Susan Flynn of Celina, Ohio, did not perform because of possible COVID-19 exposure.
Judges for the evening were Amy Chaplin, Jarod Lehman, and Jenna Lehman. The emcees were Rick Elwell and Dayle Mentzer.
daves@news-banner.com