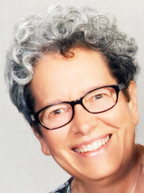 Sharon Ann Reinhard, 72, beloved wife and mother passed away on Aug. 29, 2021, in Lansing, Mich.
She was born on Aug. 13, 1949, in New York City to Glenn and Nora (McFarland) Leak.
She cherished memories of growing up with her siblings in Buffalo, N.Y., where she enjoyed taking dancing lessons with her brother, ice skating with neighbors, and attending high school at Buffalo Seminary. Sharon loved visiting with her great aunts and uncles, especially Aunt Dorothy and Uncle Bud, and Aunt Anna and Aunt Dora.
Sharon graduated from The State University of New York-Buffalo in 1971 and went on to earn her Master of Social Work at Simmons College in Boston, where she met her dear husband Donnie Reinhard.
From embarking on motorcycle rides and camping trips to settling down in Michigan, where they raised their three children, Sharon and Donnie built a wonderful life together.
There was no end to Sharon's talents. She could talk to absolutely anybody, sing, play piano, and swim lap after effortless lap in the pool. Her children sported Halloween costumes Sharon designed and sewed, ate home-canned peaches and meals made from scratch and hung hand-knit stockings by the fireplace on Christmas Eve.
Sharon was a master organizer who made every holiday special and planned trips her family loved, especially annual beach vacations at Lake Michigan. She tirelessly supported her children's endeavors while building a career she loved as a medical social worker at the Mother Baby Center in Sparrow Hospital.
A devoted member of the MSU Mennonite Fellowship who later attended services at Eastminster Presbyterian Church, Sharon valued her faith.
Sharon is survived by Donnie, her husband of 48 years; her children, Sarah Baughman (Matthew), Daniel (Nick Padron), and David; two grandchildren, Aaron and Joan Baughman; three siblings, Glenn Leak (Barb), Ed Leak (Celia), and Mary Ward (Shawn); and numerous nieces and nephews.
A private viewing and funeral service will be hosted on Wednesday Sept. 1 at Goodwin – Cale & Harnish Memorial Chapel, 3220E- Ind. 124, Bluffton.
In lieu of flowers, the family requests that donations be made in Sharon's honor to The Alzheimer's Association (https://www.alz.org), 225 N. Michigan Ave. Floor 17 Chicago, IL 60601) or to Buffalo Seminary (https://www.buffaloseminary.org), 205 Bidwell Parkway Buffalo, NY 14222)