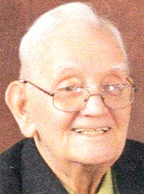 Lowell Levon Elzey, 87 of Bluffton, passed away on Wednesday morning, June 30, 2021, at Markle Health and Rehabilitation Center in Markle.
Lowell was born May 14, 1934, in Bluffton to Jesse Leroy and Verga Pauline Smeltzer Elzey. He proudly served in the U.S. Navy on an aircraft carrier from 1951 to 1955, during the Korean Conflict.
Lowell worked for Pepsi in the 1950-70s. He was the well-known "Pepsi Man" in southern Fort Wayne for many of those years. He also worked at Franklin Electric, Poly Hi Solidur, and continued in the family tradition by selling and servicing Electrolux Sweepers. He enjoyed working at Bandido's on Ind. 14, in Fort Wayne.
He was a member of the United Church of God. Lowell was gregarious, outgoing, had a playful personality, loved to travel and never met a stranger! He was very athletic and competitive and loved playing racquetball, especially with Jimmy Schindler, basketball and wrestling with the children and grandchildren. Family gatherings always included Parcheesi, jigsaw puzzles and ice cream.
On April 30, 1977, in Fort Wayne, Lowell and Susan K. Yoder Elzey were married.
Survivors include his wife Susan of Bluffton along with children, Richard (Cindy) Elzey of Fort Wayne, Robert Elzey of Fort Wayne, Nancy (Scott) Zimmerman of Colleyville, Texas, and Kathleen Martin of Oxon Hill, Md.
He was a loving grandpa to 11 grandchildren, Derek Elzey, Ben (Jamie) Shull, Casee Paige, Adam Elzey, Taylor Elzey, Matthew Elzey, David Elzey, Jasmine (Josh) Escalante, Bradley (Carolyn) Zimmerman, David (Shawna) Zimmerman and Nikkiya (Daryl) Daniels; and 12 great-grandchildren, Riley Shull, Bryce Schull, Jace Escalante, Joaquin Escalante, Jonah Escalante, Grayson Zimmerman, Sophia Zimmerman, Zoey Zimmerman, Willow Zimmerman, Gabrielle Daniels, Darryl Daniels, III and Elijah Daniels.
Lowell is also survived by two brothers-in-law, James Smith of Greencastle and Howard "Red" Adams of Fort Wayne.
He was preceded in death by his parents and siblings, Phyllis Foster, Lois Smith, Marceile Adams and Wayne Elzey.
A service to celebrate Lowell's life will be held at 1 p.m. Monday, July 5, at the Thoma/Rich, Lemler Funeral Home in Bluffton with Pastor Joshua Creech officiating. Burial will follow at Six Mile Cemetery in Bluffton. Visitation hours will be held on Monday from 10 a.m. to 1 p.m., prior to the service at the funeral home.
Memorials may be made to Friends of the Wells County Animal Shelter.
Funeral arrangements have been entrusted to the care of the Thoma/Rich, Lemler Funeral Home in Bluffton. Friends can send online condolences to the family at www.thomarich.com