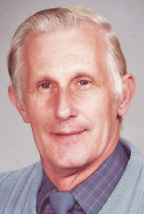 Donald E. Mayer, 88, of Bluffton, passed away Friday evening, June 18, 2021, at Markle Health and Rehabilitation Center.
Don was born in Mansfield, Ohio, on July 28, 1932, to Jakob and Martha (Gage) Mayer. He married Dorothy M. Kipfer in Bluffton on Dec. 5, 1952, she preceded him in death on April 26, 1999.
Don was an Army veteran during the Korean War, serving from 1953 to 1954. After returning from the military, Don worked for Steffen Implement in Bluffton and in the Franklin Electric tool and die department for 39 years, retiring in 1994. He was a former member of the American Legion Post 111 in Bluffton.
He enjoyed riding motorcycles and built a custom motorcycle in his younger years. He was always willing to help others and fix anything that needed repaired.
Survivors include one daughter, Janet (Jeff) Hartman of Bluffton; two sons, Steve Mayer of Timberon, N.M. and Allen Covey of Bluffton; a daughter-in-law, Pat Mayer of Willshire, Ohio; five grandchildren and 11 great-grandchildren.
In addition to his parents, Don was preceded in death by two sons, Kenny and Ronald Mayer; one daughter, Arlene Mayer; and two brothers, Richard and Howard Mayer.
Visitation will be Monday, June 21, 2021, from 10 a.m. until noon at Goodwin – Cale & Harnish Memorial Chapel in Bluffton.
Graveside services will be held at 1 p.m. Monday, June 21, at Six Mile Cemetery in Bluffton.
Memorial contributions may be made to Riley Children's Hospital in Indianapolis.