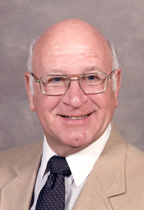 Edward J Goetz Jr., 100, of Ossian, passed away on Friday, Feb. 19, 2021. Born on Feb. 15, 1921, in Cincinnati, Ohio, he was the son of Edward J. and Louise Pfeiffer Goetz Sr.
He earned a B.S. in mechanical engineering from the University of Cincinnati where he met his wife, Henrietta, of 72 years. He earned an M.B.A. from Xavier University in Cincinnati. He served in the U.S. Army Air Corps as a B-29 fight engineer, having 37 combat missions over Japan, and received the Purple Heart Medal among other service awards. Ed was a mechanical engineer and sales manager at General Electric in Cincinnati and Valley Forge, Pa., then moved to Indiana to work for Franklin Electric as service manager and retired from Essex in 1984.
He contributed to his community and churches in many ways. Devoted to scouting for more than 30 years, he was a BSA Eagle Scout and Scout Master in Cincinnati, earning the Silver Beaver Award. He was a life member of the American Society of Mechanical Engineers, and he served on the boards of the following: the Wells County Foundation, the Friends of the Wells County Public Library as treasurer, Wells County United Way Board as president, Northern Wells Community Schools Board, Wells County Creative Arts Council, Ossian Development Corporation, Fort Wayne Area Scandia Club, Fort Wayne Sister Cities Committee, Bluffton Kiwanis, Ossian Lions Club as president and was awarded by the Melvin Foundation, and Fort Wayne Philharmonic Friends; he also sang in the Philharmonic Chorus for more than 20 years and managed the young people's music competition.
Ed also sang in the church choir at Fort Wayne Baptist Church, often performing solos. He was a lifelong lover of opera. After retiring Ed volunteered for 25 years as a tax preparer for the AARP free service through the Wells County Council on Aging. He received the Citizen of the Year Award in 1978 by the NE Indiana Engineers and the Citizen of the Year in 2010 from Wells County Chamber of Commerce.
Ed and his wife, Henri, enjoyed travelling throughout the U.S., exploring places abroad with Elderhostel (Rhodes Scholar), and touring Europe with the Fort Wayne Sounds of Hope. Ed found community at the First Baptist Church in Bluffton in the past decade. It can be said of Ed Goetz that he lived life well, valued his family and friendships, and gave generously of his time and resources.
Surviving Edward are his daughters, Kathryn L. Goetz of La Jolla, Calif., Carol L. (Patrick) Dunn of Middleton, Wisc., Marti S. Goetz of Tipp City, Ohio, and Deborah L. (Richard) Kumpf of Moultonborough, N.H.; seven grandchildren; seven great-grandchildren; and five great-great grandchildren.
In addition to his parents, Edward was preceded in death by his wife, Henrietta (Rasmus) Goetz in 2015; and his sister, Elizabeth L. Murray.
A private family service and burial will be held. Memorial donations may be made to the Edward and Henrietta Goetz Scholarship Endowment for students of STEM and Nursing at the Wells County Foundation, 222 W. Market St., Bluffton, IN 46714, or the Friends of the Library at Wells County Public Library, 200 W. Washington St., Bluffton, IN 46714.
Fond memories and expressions of sympathy may be shared at www.elzey-patterson-rodak.com for the Goetz family.