Edna Wenger, 93, of Bluffton, passed away on Tuesday, Nov. 17, 2020 at Christian Care Retirement Community.
She was born on April 17, 1927, in Vera Cruz to Ervin and Frances (Moser) Walter. She was a 1945 graduate of Bluffton High School. She graduated from Lutheran Hospital School of Nursing in 1949. Edna married Fred, "Freddie," Wenger, Jr. in Vera Cruz on May 24, 1949. They shared 63 years together until his passing on Sept. 26, 2012.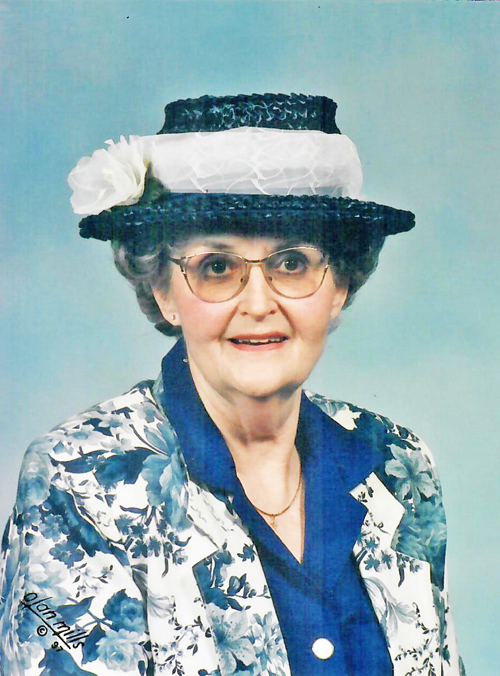 Edna was a private duty nurse and a long-term care nurse for many years. She also worked 10 years as the public health nurse for the Wells County Department of Health. Edna enjoyed being an active member of several United Church of Christ congregations. She shared her nursing skills with many organizations, including the AIDS Task Force, Crossroad Children's Home Board of Trustees, and volunteered for the Panos Free Clinic and Focus on Health events. In addition, Edna was a champion for the underdog and will be remembered as a mentor to many.
An avid Bluffton Tiger fan, Edna attended every home basketball game when possible. She loved hats and created unique black and crimson ensembles, becoming the Tiger's most recognizable supporter. In 2000, she received the Tiger Spirit Award. Upon hearing of Edna's passing, a family friend observed that she will now have the best seat in the house.
As a lifelong Wells County resident, she enjoyed sewing, family gatherings, playing games, and walks in the park and on the Rivergreenway. She liked to travel, visiting many states, including Alaska and Hawaii. She also ventured to several foreign countries.
Edna is survived by her children: Susan (Dennis Shipley) Wenger of Fort Wayne, Mark (Sheila) Wenger of Bluffton, Elaine (Dale) Wenger-Roesener of Las Vegas, Nev., Fred (Patricia) Wenger III, of Annandale, Va., and Judith (Tim) Schaffter of Roanoke, along with 11 grandchildren, 11 great-grandchildren and a brother Raymond Walter of Fort Wayne.
She is preceded in death by her parents, her husband, Fred Jr., her siblings Charles, Kenneth and Eileen, and beloved grandson, Benjamin.
A private family celebration of Edna's life will take place at the Thoma/Rich, Lemler Funeral Home in Bluffton. Friends wishing to watch Edna's service can do so from the safety of their home, utilizing a Zoom Meeting. You can login using the Zoom Meeting I.D. # 813 7368 1256 at 12:45 p.m. on Monday, Nov. 23, 2020.
Private family burial will take place at Six Mile Cemetery, following the private family service.
Memorials may be made to the Crossroad Children's Home or Wells County Food and Clothing Bank and should be mailed to the funeral home.
Funeral arrangements have been entrusted to the care of the Thoma/Rich, Lemler Funeral Home in Bluffton. Friends can send online condolences to the Wenger family at www.thomarich.com.