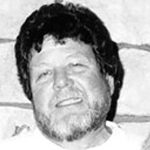 David Allen Highlen, 74, of Springfield, Ohio, passed away Tuesday, Sept. 5, 2017, in his residence after a courageous battle with pancreatic cancer.
David was born Oct. 15, 1942, in Wells County, to Lawrence and Anna Belle Dungan Highlen.
He retired from Navistar after many years of service, was a member of U.A.W. Local 402 and served in the U.S. Army Reserve.
He enjoyed fishing, auto racing and spending time in his garage.
Survivors include his wife, Karen Sue Flowers Highlen; son, Randall Allen Highlen; one granddaughter, Bella Ann Highlen, who was the joy of his life; five siblings, Larry Highlen, Martha (Joe) Stanczyk, Marv (Mary) Highlen, Tom (Mary Jo) Highlen and Gale (Chris) Highlen; and several nieces and nephews.
He was preceded in death by his sister, Mary Ann Jackson.
Private services will be held at the convenience of the family. In lieu of flowers, memorial donations may be made to the Springfield Regional Cancer Center or Hospice of Dayton.
Arrangements handled by Conroy Funeral Home.