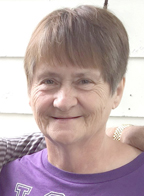 Connie J. Johnson, 62, of Bluffton, passed away Friday morning, Sept. 1, 2017.
Connie was born in Wells County May 12, 1955; her parents, George Davis and Judy (Flowers) Davis, both preceded her in death.
Connie was a homemaker, and loved spending time with her family. She enjoyed going to yard sales and was a big Elvis Presley fan.
Survivors include daughters,  Judy Graham (fiancé Darrin Runkel), Bobbie (Richard) Tessmer of Bluffton, Dawn (Kamran) Hafeez of Fishers; step-children, Bruce Johnson and Jeanette Newman of Washington State; four sisters, Karen (John) Conrad, Sally (John) Dillon, Bonnie (Larry) Peeper and Betsy Davis, all from Bluffton; three brothers, Rick (Dawn) Davis, Frank (Ruby) Davis, Gary Davis, all from Bluffton; and 10 grandchildren.
In addition to her parents, Connie was preceded in death by two brothers, George and Freeman Davis.
Visitation will be held Wednesday, Sept. 6, from 1 until 3 p.m. at Goodwin – Cale & Harnish Memorial Chapel in Bluffton, with the service starting at 3 p.m. Burial to follow at Six Mile Cemetery in Bluffton, with Tony Garton officiating.
In lieu of flower tributes, memorial contributions may be given to the family in care of the funeral home.