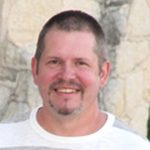 John D. Buskirk, 49, of Bluffton, passed away Thursday afternoon, Aug. 17, 2017.
He was born April 23, 1968, in Fort Wayne to Marvin D. Buskirk and Ann Schlaudraff Wenger.
He graduated from Homestead High School in 1986 and Purdue University with a degree in agricultural engineering. He worked as an engineer at Tuthill Corp. in Fort Wayne, A.T. Ferrell Co. in Bluffton, and was the former owner/operator of Buskirk Engineering in Ossian.
He attended Life Community Church and was drawn to mission work in India and Africa.
John and Teresa Grube Buskirk were married at Nine United Methodist Church, Fort Wayne, Sept. 21, 1991.
He is survived by his wife Teresa of Bluffton; his father, Marvin (Edna) Buskirk of Fort Wayne; mother, Ann (Don) Wenger of Fort Wayne; children, Luke Buskirk of Darmstadt, Germany, Kohl Buskirk and Nevaeh Buskirk, both of Bluffton; siblings, Dan (Jennifer) Buskirk of Mason, Mich. and Desiree Buskirk of Fort Wayne.
Visitation will be from noon to 6 p.m. Sunday, Aug. 20, at the Thoma/Rich, Lemler Funeral Home in Bluffton.
The funeral service will take place at 10 a.m. Monday at Life Community Church in Bluffton, with visitation one hour prior the service.
Memorials may be made to the family.
Funeral arrangements have been entrusted to the care of the Thoma/Rich, Lemler Funeral Home in Bluffton.
Friends can send online condolences to the family at: www.thomarich.com