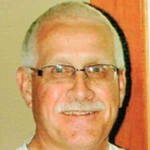 Jeff Stockman, 66 of Markle entered into rest at 2:52 p.m. Saturday, July 2, 2017 at Lutheran Hospital surrounded by his loving family.
Jeff was a 1968 graduate of Huntington North High School and a 1971 graduate of ITT, where he received an associate degree in electronics. Jeff was highly involved in his community. He served on several boards in Markle and Huntington and Wells counties.
Jeff was married to his wife Cathy for over 41 years. His greatest joy was spending time with his family.
Survivors include his wife, Catherine Stockman of Markle; two daughters, Courtneé (Ramar) Stockman of St. Paul, Minn., and Callie (Eric) Stockman of Fort Wayne; a brother, John Stockman of Huntington; four grandchildren, Gabriella, Karric, Jace and Sebastian; and a father-in-law, Don Wilson of Markle.
He was preceded in death by his parents, Frey and Nevah Stockman; a sister, Sharon Middleton; and a brother, Jim Stockman.
Visitation will be from 5 to 8 p.m. Thursday July 6, and  from noon to 2 p.m. Friday July 7, the Myers Funeral Home Markle Chapel, 415 N. Lee St., Markle.
Funeral service will be held at 2 p.m. Friday July 7, following visitation at the funeral home. Interment will be at the Markle Cemetery.
Memorial donations can be made out to Markle Historical Society in care of Myers Funeral Home, P.O. Box 403, Markle, IN 46770.
To sign Mr. Stockman's online guest registry visit www.myersfuneralhomes.com