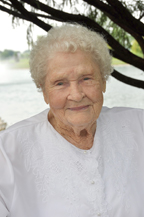 Frances L. Campbell, 92, of Bluffton, went home to be with her Lord whom she loved singing about, Friday morning, June 16, 2017, at Bluffton Regional Medical Center.
Born in Trenton, Mo., on Aug. 9, 1924, to Andrew Everett and Gladys Harris Harris, Frances married Floyd M. Campbell in Trenton, Mo., on July 20, 1947; he survives.
Frances graduated from Trenton H.S. in 1942, and then attended Bolivar Baptist Bible College for one year. For many years, alongside her twin sister Fern, they performed as a gospel duet in the Trenton area at churches and revival meetings.
Frances, along with her family, traveled for many years for her husband's job and eventually settled in the town of Auburn, Wash., in the early 1970s, where they lived until moving to Bluffton, four years ago.
Frances was a homemaker and a very supportive wife and mother who loved taking care of her flowers and fishing. She enjoyed spending time with her family, especially her grandchildren. She was a member of Bethel Church in Bluffton.
In addition to her husband, Frances is survived by a son, Nolan (Julia) Campbell of Tacoma, Wash.; a daughter, JoAnn (Ted) Claghorn of Bluffton; four grandchildren, Anna (Aaron) Mason, Mesha (Jared) Kendrick, Tamar (Omar) Arizipe and Zechariah Campbell; and nine great-grandchildren, Joselyn, Quinnton, and Pierceton Mason, Campbell and Finley Kendrick, and Mahland, Lucille, Olive, and Eli Arizipe.
Frances was preceded in death by an infant son, Joseph E. Campbell; five sisters, Dorothy Sayer, Margarette Bionaz, Mary Elizabeth "Tame" Crow, Marilee Harris, and Fern Clifton; and six brothers, Gilbert, Raymond, Erwin "Sod", Edwin, Edgar, and Joseph Harris.
Visitation will be from noon to 2 p.m. Tuesday, June 20, at Goodwin-Cale & Harnish Memorial Chapel, with a funeral service beginning at 2 p.m. at the funeral home, officiated by Pastor Ron Garner. There will be an additional funeral service held at 11 a.m. CDT Thursday, June 22, in Trenton, Mo., at the Shelburne Baptist Church, with visitation one hour prior to the service at the church, with Pastor Mark Clifton officiating. Burial will be at the Shelburne Cemetery.
Memorial contributions may be made to Bethel Church.
Online condolences may be made at www.thegmcfamily.com